The Dutch String Trio
'A big, big, thank you!' – Sid
"Scarlett! I just wanted to let you know you guys were AMAZING!! All my guests told me after the wedding how they really loved the music! Also during the ceremony, I know my wedding party was confusing but you guys were on point on every aspect! Seriously, thank you for making my wedding day so memorable ?"
A
string trio
consisting of two violins and a cello can be considered with a smaller group, or when there is less space. Our largest repertoire is written for string quartet, but we also have many arrangements of classical and light repertoire to accompany your wedding ceremony with a string trio. The much sought after
Canon of Pachelbel
at a wedding is beautiful, played by the String Trio.
Is your favorite music not in our offer? That doesn't have to be a problem. Mail our "your" song, and we will try to add it to our repertoire.
Do you want to know if we are still available on your wedding date or the day of your party or event? Send me a message and I will respond as soon as possible.
Dutch String Trio plays Marry Me by Train
Some clips from The Dutch String Trio:
Love Yourself | Justin Bieber
Prefer a string duo?
A
string duo
is usually a
violin-cello duo
. Thanks to the combination of the highest and lowest voices, this makes both baroque pieces and romantic works come into their own. A string duo is beautiful during the wedding anniversary ceremony, and as
background music
for a small group.
Think of classics such as the Canon by Pachelbel, De Zwaan, Air by Bach, or the Pavane, but also Bach's invention that has been adapted for violin and cello; wonderful counterpoint for true music lovers. We also have a selection of tangos, evergreens and ballads from the popular music on our repertoire. Do you prefer two violins or two cellos? We can also realize that for you.
Of course we think along with you about the right pieces during the ceremony. If you want, I, Scarlett Arts, will discuss your day and our contribution with you.
A selection from our repertoire for string duo is Pachelbel's Canon in D, the Air by Bach, the Hornpipe by Haendel, the Trumpet tune by Purcell, Trumpet Voluntary by Clarke, parts from The Four Seasons of Vivaldi, tangos, folk music, traditionals and delicious ballads. as Love me tender, Can't help falling in love, She, Every breath you take up to Marry you, All of me and A Thousand years.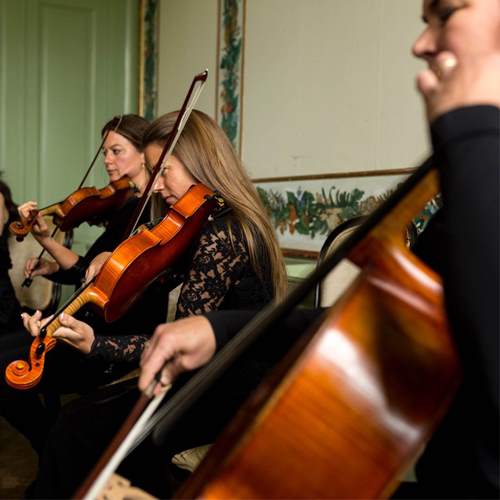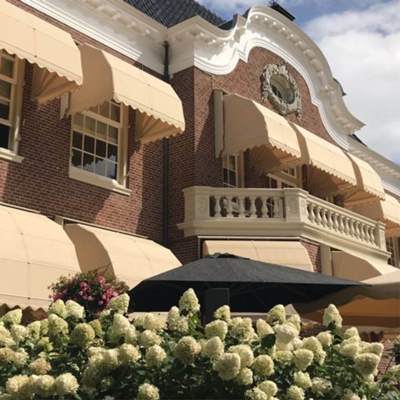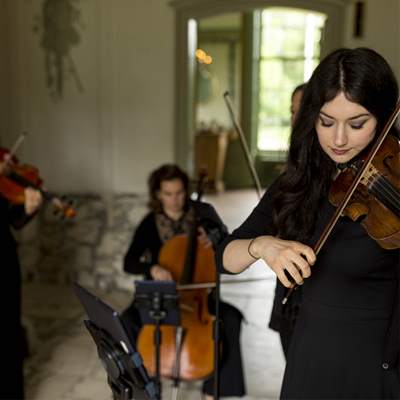 "How beautiful your game was. Really a great addition to our special day. Unfortunately, we had to go outside a bit earlier for photos and we couldn't enjoy your game for as long. In retrospect, we would have liked to have you play even during dinner."
"
A big, big thank you to all of you for making our wedding day such a success! We have truly enjoyed every single minute of it — and not only us, our guests have too. All of them were impressed by your professionalism. … Thank you once again for making us so happy."
Classical pieces of music